Bingo players are always looking for new and exciting games, and 80 Ball Bingo is one of the newer variations to be featured on online gaming sites. The game is simple to play and offers great opportunities to win. This game is known to be played at a faster pace than 90 and 75 ball games, so it is one that will surely bring some great excitement and endless entertainment for bingo enthusiasts. The game is an excellent choice for those that feel the 90 ball version is a bit too slow and the 75 ball version a bit too traditional.
This version of the game may be one of the newer ones offered, but it has quickly drawn the attention of players from around the world and is one of the preferred options at bingo sites. With 80 Ball Bingo, players will enjoy similar play to 75 Ball Bingo and the fast speed of 90 ball bingo. The game is a great option for those that are looking for a slight twist to traditional bingo games.
Card Layouts
When playing the 80 ball version of the game, the cards will have a 4×4 grid, and there are 16 numbers in play. Each of the columns on the card will have a different colour, and the numbers will be divided into these colours with 20 for each colour group. These consist of: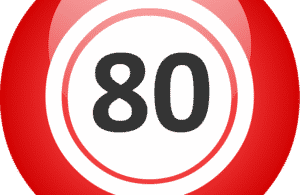 Red – Numbers 1 through 20
Yellow – Numbers 21 through 40
Blue – Numbers 41 through 60
Silver – Numbers 61 through 80
Game Prizes and Payouts
With 80 Ball Bingo, there are multiple ways in which a player can win. The more cards they have purchased, the more chances they will have at claiming a prize. There are four different types of play that are available, and each will offer different payouts.
Single Line – One prize is paid for any completed line, vertically, horizontally or diagonally. A win can also be claimed with all four corners or the four central squares on the card.
Any Line, House – There are two prizes offered here. First, a single line win will be declared a winner, and then players will play for the full house win, where all 16 numbers must be marked.
Any Line, Column, House – This offers four prizes and the first is a single line followed by any 2 lines. The third payout is collected by marking off three lines, and the last payout is for a full house.
Full House or Pattern – There is a single prize with these games and this can either be the full house or a completed pattern, which is defined before the beginning of the game.
How to Win at 80 Ball Bingo
There are no proven strategies to beat bingo games since all results are completely random, but there are some tips that can be applied when playing any bingo games that can help players gain an edge and have a better chance at winning. The first is to play when the least amount of players are active. By having fewer players involved in a game, there are more chances to win. It is also advised to purchase as many cards as possible. This may mean playing for a smaller amount, but when players have multiple cards, they also have multiple chances to win, so it is best to play as many cards as a budget allows.
Some 80 Ball Bingo games will have a progressive jackpot offered. While these may be appealing, they do not provide good chances to win. These games will attract more players, so the opportunities of winning are quite slim. If players are determined to play for a jackpot. They should try playing when the jackpot is a smaller amount, which will draw fewer players.
The main tip is always to have fun. Playing 80 Ball Bingo will offer fast action and some great rewards. This version of bingo has become a top option for seasoned bingo players and for those that like fast paced games with multiple payout options. Any player that has played bingo in the past will quickly pick up the rules and layout of the card and will be on their way to collecting some nice wins when they purchase real money cards.