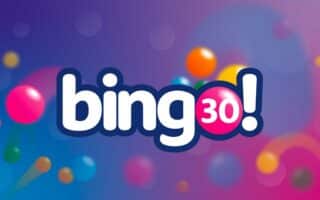 Are you a bingo enthusiast looking for a dynamic and exciting bingo game? Then, check Bingo 30, which is a classic addition to the bingo game world. This game has a unique twist on traditional bingo, combining bite-sized gameplay with stimulating rewards.
Bingo 30 introduces a new dimension to bingo entertainment with its 30-ball variant. The game is played on a 3×3 grid, adding an element of strategy and speed to the classic bingo format. With tickets priced at just 10p each, players can purchase up to 20 tickets per game, enhancing their chances of winning.
How To Play Bingo 30?
Bingo 30 is an exciting variation of the classic bingo game offered by some bingo sites, including Tombola. With its unique 30-ball format and enticing prizes, it is a game that combines strategy, luck, and entertainment. Here is a step-by-step guide on how to play Bingo 30:
Visit a Good Bingo Site
Sign Up for a New Account
Verify Your Newly Created Profile
Make a Deposit & Claim a Bonus
Navigate to Bingo Games
Buy Tickets Inside the Game
Wait for the Numbers to be Shouted Out
Mark Your Winning Selections
Now that you know how to play Bingo 30. It is time to jump in and experience the excitement firsthand. Remember, Bingo 30 is a quick-paced and rewarding bingo experience, making it perfect for players who enjoy bite-sized gaming with the chance to win big!
Features of Bingo 30
Bingo 30 is more than just your typical bingo game – it is a dynamic and engaging experience that brings a range of unique features to the table. Here is a breakdown of the standout features that make Bingo 30 a game worth trying out:
30-Ball Bingo Format
Rapid Gameplay
Variety in Ticket Quantity
Jackpot Function Availability
Full House Prize Variation
Auto-Marking Function
Interactive Chat Rooms
Player-Friendly Environment
In summary, Bingo 30 combines innovation and traditional bingo elements to create an enticing and thrilling gaming experience. Its unique features include the 30-ball format, customisable colours, the no-sharing Jackpot policy, and all the above features.
Where Can I Play Bingo 30?
You can play Bingo 30 on the Tombola website. Tombola is a well-known online bingo platform that delivers a variety of quality bingo games, including Bingo 30. It is one of the most prestigious operators in the UK. There are other variations of the game, which are available in bingo sites all over the internet.
Characteristics of Bingo 30
Bingo 30 features a fast-paced 30-ball format, quick gameplay, and the chance to win a nice jackpot prize. With customisable colours and interactive chat rooms, it offers exciting, bite-sized bingo entertainment.
| | |
| --- | --- |
| 📋 Bingo Game Name: | Bingo 30 |
| 🔥 Bingo Game Type: | 30-ball |
| ⚙️ Software Provider: | Tombola |
| ✅ Best Bingo Site to Play: | Tombola |
30-ball Bingo Game
We already mentioned that the game is a classic variant of the 30-ball bingo, available on most of the bingo websites throughout the internet. It has a 3×3 grid and amazing gameplay, which will grab your attention from the very first moment.
Graphics and Sound
Bingo 30 possesses vibrant graphics, enhancing the visual appeal of the 3×3 grid. The game's user-friendly interface has clear number markings and customisable ball colours. While sound effects are minimal, they complement the gameplay, adding to the overall immersive experience.
Fairness and Security
Bingo 30 operates on Tombola, a platform known for its commitment to player security and fairness. The site is regulated by relevant authorities, ensuring a safe gaming environment. Additionally, Bingo 30's no-sharing Jackpot policy ensures fairness in prize distribution among winners. We can conclude that this game is a good option for all players who are worried about their safety online.
Summary
Bingo 30 delivers a refreshing twist on bingo gaming with this classic variant. Its 30-ball format injects a burst of excitement and strategy, while the Full House prize variation and the fixed Jackpot make for an appealing combination of rewards.
Besides, Bingo 30 promises an exhilarating and potentially lucrative gaming experience. You shouldn't miss it because it is really one of the great games created by the software developers of bingo games. It is available under different names at the various bingo platforms, including in Tombola.