October is the month we celebrate Halloween. Everyone is doing something, looking for the perfect costume, the spookiest décor, the most eerie-looking candies, the most frightening stories to tell during dinner and the tastiest, yet creepily-decorated meals.
People are practising their tricks, mowing their lawns, cleaning their houses and preparing themselves both physically and mentally for what's about to come in the evening of October 31.
For Costa Bingo, that means the creation of Halloween-themed promotions. That means thinking of the best offers that would make this Halloween better than the one from last year for their players.
So, get ready, because you will howl as soon as you read about these bloodcurdling promotions and bonus offers.
Top Up Treats of £1,500 Can Hurt No One
Costa Bingo is in the mood for creating a real hair-raising atmosphere in the bingo rooms. The thrill and the excitement you'd get with this promotion has no comparison; it is full of surreal surprises.
Each time you make a deposit at Costa Bingo, you get treated (not tricked) with not one, but two perks.
In order to be eligible to claim these incredible perks, you would need to deposit at least £10, or even more if you'd like, any day in October.
All depositors can get an access to 4 exclusive rooms because Costa Bingo will be rewarding them with up to 40 Free Tickets for those rooms.
You can use these tickets to play more than 150 games which are at your disposal. Keep in mind that you're playing for the prize pool of £1,500 in cash!
Additionally, you can get special 24-hour access to a room where you will find a £500 cash prize pool waiting for you.
The access is for the Reload Freebie room and the offer is there any day of the month. That means that any day you can become the lucky winner of the cash prize pool.
Take Your £25 or Get Ready to Be SPOOK OUT for Real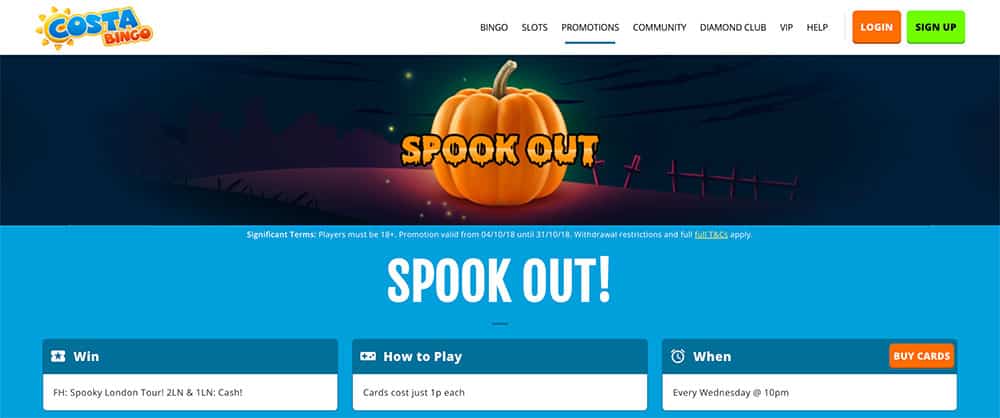 Playing at Costa Bingo from the 4th to the 31st of October can bring you more fun than you could ever expect to get.
For a 1p bingo card, you can play the 90-ball Costa Bingo's game SPOOK OUT and be the potential winner of some horrific rewards.
If you're a real daredevil, you're up for a scary adventure, and you manage to get a winning combo playing your favourite bingo game, you get to enjoy a London Horror Walking Tour worth £25.
You can play every Wednesday night, when it gets dark and dangerous outside, more precisely, at 10 pm. But, don't worry, you can take someone with you on the tour, as you get 2 tickets.
Still sounds too terrifying? You can't handle it? Then, you have an alternative solution. For all of you who are afraid to join the tour, you can take the £25 in cash.
In addition, if you have managed to win 2 lines, you get a £15 cash prize, while if you have won 1 line, you get a £10 cash prize.
Remember, these shocking prizes are up for grabs every day of the week, meaning you can play your bingo games for 1p each throughout the whole month of October.