When it comes to playing bingo online, you will find there are some great game variations. While most players are familiar with the standard 75-ball and 90-ball games, there is also an excellent 40-ball bingo option. This game offers a new way to enjoy the thrills of bingo, and you will find it being featured at top-rated online sites. Here at TheBingoOnline.com, we take a closer look at this newer variation.
Welcome to 40 Ball Bingo
40 ball bingo sites started to offer the game back in 2015 when it was initially released by Virtue Fusion. The game quickly became very popular and is featured at some of the top-rated bingo sites. The version of the game was themed and is called Rainbow Riches Bingo. Played with 40 standard balls and 2 special Rainbow Riches Clover icons, this game can deliver some huge wins.
When you access the best 40 ball bingo sites, you will not only benefit from standard game payouts but will also be able to play for progressive wins. With the Rainbow Riches bingo game, there are two exciting jackpots available. There are also sites that have standard 40 ball bingo. These games are played just like any other version, but only make use of 40 balls and have a different card layout.
How to Play and Win
If you want to get in on the action at 40 ball bingo sites, you can quickly start playing. This version of the game is very easy to play, and it has been designed to offer a faster bingo game. Since there are just 40 balls in play, the games are quicker, so it appeals to those that want to play numerous games in a short period.
To play, you will access one of our recommended 40 ball bingo sites such as Mecca Bingo and Betfred Bingo. Here, you can play Rainbow Riches and win base payouts and progressive rewards. With other sites that do not have the themed game, there are two prizes that can be won. The first payout will go to the player that is the first to complete a single line or a particular pattern. The second prize is awarded to the first player that gets a Full House.
The Best 40 Ball Bingo Sites
The majority of the best bingo sites will support the mentioned Rainbow Riches game and will be powered by Virtue Fusion. These sites are licensed and regulated and offer secure access on desktops and mobile devices.
With our list of sites, you will find the best bingo games, great jackpot rewards, and will even be able to benefit from bingo bonuses to begin playing. If you are new, you will also be able to preview the 40 ball bingo game at no risk.
If you want to jump right in and start playing for real money, be sure to check out our sites. These all provide fair games, trusted payment methods, great bonuses, and other variations of bingo. Based on our reviews, we found the following sites to be the best options for 40 ball bingo online.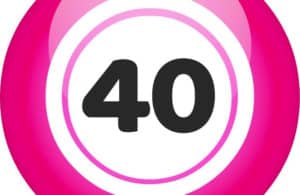 FAQ
Are there special features with Rainbow Riches 40 ball bingo?
Yes. You will be able to choose a lucky number before each game and if that is called, you will win an instant cash bonus amount.
Can I play for free?
Yes. You can preview the 40 ball bingo games at no cost. This is a great way to review game rules and see how added features work before making a real money purchase.
Is online bingo safe?
All of our recommended sites are licensed and regulated and use encryption software for all transactions. These measures provide you with a safe and secure way to engage in real money play.
Can I play 40 ball bingo games on a mobile device?
Yes. Our sites are also mobile optimized, so you will be able to enjoy the thrills of this game on the go.
What is the cost to play?
Each site will have different card prices, but you will find the average 40 ball bingo game costs about 8p per card.
Start Winning Today
If you are ready to play a fast-paced game that delivers endless action, our 40 ball bingo sites will meet your needs. Just create an account, make your deposit, and begin to purchase cards. You will quickly see why this version of bingo has become one of the preferred choices for online gamblers. Signup at any of our sites to receive super bonuses that can offer free cards and free funds.