This variant of the beloved game has become immensely popular in the online gaming world. With its fast-paced gameplay, unique patterns, and thrilling opportunities to win, 75-ball bingo presents an exciting experience for players of all skill levels. We will delve into the rules, strategies, and features that make this game so captivating. Whether you are an experienced bingo enthusiast or new to the world of online gaming, join us by reading this article as we explore the exciting world of 75-ball bingo and uncover the reasons behind its widespread popularity.
Play 75 Ball Bingo for Real Money in 2023
Get ready to play 75-ball bingo for real money in 2023! Experience the thrill and excitement of this popular bingo variant while having the opportunity to win cash prizes. With numerous online bingo sites offering 75-ball games, you'll have plenty of options to choose from. Take a look at the table below to discover the most popular bingo sites for an unforgettable gaming experience.
History of 75 Ball Bingo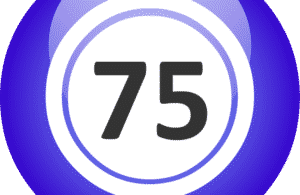 The history of 75-ball bingo traces back to the United States in the mid-20th century. It gained popularity as a carnival game called "Beano" before evolving into the modern version we know today. The name "Beano" came from players marking their cards with beans.
Edwin S. Lowe, a toy salesman, witnessed the game at a fair and decided to develop it further. He introduced it as "Bingo" and added more variations, including the 75-ball version.
Its unique grid of 5×5 squares, with the centre square marked as a free space, added a new twist to the game. 75-ball bingo quickly became a favourite in North America and later spread to online platforms, captivating players worldwide.
How to Win, Playing 75 Ball Bingo?
To increase your chances of winning in 75-ball bingo, follow these steps to get started on the right track. Choose a reputable bingo site, create an account, make a deposit, select a game, buy tickets, and mark off the numbers as you strive to complete patterns or achieve a blackout. Good luck on your bingo journey!
Find a reputable bingo site that offers 75-ball bingo games.
Open an account by providing the required information.
Make a deposit to fund your account and have funds to purchase bingo tickets.
Choose a 75-ball bingo game from the available options.
Buy tickets for the game, selecting the number of tickets you want to play.
Mark off the numbers on your cards as they are called out, aiming to complete the specific pattern or achieve a blackout.
Pro Advice:
Stay focused and attentive during the game, as even a single missed number could be the difference between winning and losing.
75-Ball Bingo Tips and Tricks
Bingo is ultimately a game of chance, but employing these tips and tricks can help optimise your experience and improve your outcomes. Here are some tips and tricks to enhance your 75-ball bingo experience:
Familiarise yourself with the different patterns: Take time to learn the various patterns used in 75-ball bingo, as this will help you strategise and increase your chances of winning.
Play with multiple cards: Buying multiple cards can improve your odds of hitting a winning combination, but be sure to manage them effectively without getting overwhelmed.
Choose games with fewer players: Opt for games with fewer participants, as this increases your chances of winning and reduces competition.
Take advantage of chat features: Engage with fellow players in the chat rooms, as they may share valuable tips or alert you to potential opportunities during the game.
Set a budget: Determine a budget for your bingo sessions and stick to it, ensuring that you're playing responsibly and within your means.
Watch for special promotions and bonuses: Keep an eye out for special offers, promotions, and rewards that can give you added value and increase your winning potential.
Playing 75 Ball Bingo Online
When it comes to online gaming, playing 75-ball bingo provides a thrilling and convenient experience. This variant has captivated players worldwide with its unique patterns and exciting gameplay. Dive into a virtual world of daubing numbers, engaging chat features, and the chance to win big.
75 Ball Bingo with Real Money
For those seeking an exhilarating bingo experience with the chance to win real money, look no further than 75-ball bingo with real money. This popular variant offers the perfect blend of excitement and potential rewards. Join reputable online bingo sites, create an account, and make a deposit to start playing. Purchase tickets, mark off numbers, and aim to complete patterns or achieve a blackout for substantial cash prizes. You'll feel the anticipation and thrill of potentially hitting that winning combination with every daub.
Free 75 Ball Bingo Rooms
If you're looking for the excitement of playing 75-ball bingo without spending a dime, free 75-ball bingo rooms are the way to go. These online platforms offer the opportunity to enjoy the game for free while still giving you the chance to win real prizes. Join fellow players in these virtual rooms, daub your numbers, and aim for those winning patterns, all without spending a single penny.
Popular 75-ball Bingo Games
Numerous popular 75-ball bingo games have captured the attention of players worldwide. These games offer unique features, exciting themes, and enticing prizes. Some popular 75-ball bingo games include:
Rainbow Riches Bingo
Deal or No Deal Bingo
Cash Cubes Bingo
Age of the Gods Bingo
Fuffy Favourites Bingo
Where to Play 75-ball Bingo?
When it comes to playing 75-ball bingo, you can go right with well-known online bingo sites like Two Fat Ladies, Mecca Bingo, Betfred Bingo, and MrQ Bingo. These platforms offer a range of 75-ball bingo rooms, exciting promotions, and a trusted gaming experience. Join now and let the bingo fun begin!
Using Bonuses and Promotions for Playing 75 Ball Bingo
When playing 75-ball bingo, taking advantage of bonuses and promotions can significantly enhance your gaming experience. Online bingo sites often offer enticing bonuses such as welcome offers, deposit matches, or free bingo tickets. These bonuses provide extra funds or opportunities to play more games, increasing your chances of winning. Special promotions like prize giveaways, loyalty rewards, or seasonal events add excitement and value. By utilising these bonuses and promotions, you can maximise your playing time and potentially boost your winnings in the thrilling world of 75-ball bingo.
Comparison of the Main Bingo Types
The main types of bingo, including 75-ball, 90-ball, and 80-ball, each offer a unique gaming experience. 75-ball bingo features patterns and a 5×5 grid, while 90-ball has three stages with different prizes. 80-ball bingo strikes a balance between the two. Choose the variant that suits your preferences for an exciting bingo adventure. More info about the various types can be found in the table below.
| Bingo Type: | 75-ball Bingo | 80-ball Bingo | 90-ball Bingo |
| --- | --- | --- | --- |
| Number of Balls: | 75 | 80 | 90 |
| Layout Grid: | 5×5 | 4×4 | 9×3 |
| Winning Pattern: | 3 | 4 | 3 |
Why Do We Recommend Playing 75-ball Bingo?
We highly recommend playing 75-ball bingo for several compelling reasons. It has fast-paced gameplay and unique patterns that offer an exciting and dynamic experience. The 5×5 grid and various winning possibilities keep players engaged and entertained. The online 75-ball bingo community is also vibrant and diverse, allowing you to connect with fellow players worldwide.
Furthermore, the convenience of playing from the comfort of your home, along with the availability of themed rooms and attractive bonuses, make 75-ball bingo a top choice for both seasoned players and newcomers. So, dive into the thrilling world of 75-ball bingo and discover the excitement for yourself!
75-Ball Bingo FAQs
How do I play 75-ball bingo?
In 75-ball bingo, players receive a 5×5 grid with numbers. As numbers are called out, mark them off on your grid. The objective is to complete specific patterns or achieve a blackout by marking off all numbers.
What are the different patterns in 75-ball bingo?
The patterns in 75-ball bingo can vary, but common examples include lines (vertical, horizontal, or diagonal), shapes (such as squares or diamonds), or specific themed patterns (like letters or objects).
Can I play 75-ball bingo online?
Yes, many online bingo sites offer 75-ball bingo games. You can join virtual rooms, purchase tickets, and participate in games from the comfort of your home.
What is the difference between 75-ball and 90-ball bingo?
The main difference is the number of balls and the grid layout. 75-ball bingo uses a 5×5 grid with 75 balls, while 90-ball bingo features a 9×3 grid with 90 balls. The patterns and gameplay rules also differ.
Can I win real money playing 75-ball bingo?
Yes, playing 75-ball bingo with real money allows you to win cash prizes. Online bingo sites often offer various jackpots and prizes for completing patterns or achieving a full blackout.