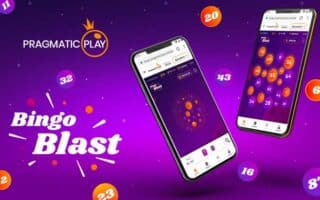 Bingo Blast is a thrilling and fast-paced online game that injects a thrilling twist into the traditional 90-ball bingo game. Developed with a focus on speed and intensity by Pragmatic Play, Bingo Blast provides players a dynamic and exhilarating gameplay experience. This game throws tradition out the window and introduces rapid-fire gameplay where numbers are revealed in quick succession.
With its vibrant graphics, energetic atmosphere, and a chance to win exciting prizes, Bingo Blast delivers a modern and captivating take on the beloved game of bingo. Get ready to blast off into a world of fast-paced fun by continuing to read our dedicated gaming review!
How To Play Bingo Blast?
Playing Bingo Blast is easy and thrilling. Follow these steps to start, knowing the procedure is straightforward. If you need help before beginning to play this fascinating game, feel free to reach the support centre of your chosen platform.
Select a good bingo site that offers Bingo Blast.
Upon launching the game, select your desired game mode or variation.
Purchase your bingo cards, considering the number of cards you want to play with.
Numbers are picked fast, so quickly scan your cards to locate and mark off matching numbers.
Watch for power-ups and boosters that can help enhance your gameplay and increase your chances of winning.
Be the first player to complete the required pattern on your card and call out "Bingo!" to win the round.
Chat with other players and enjoy your winnings together.
Repeat the process for subsequent rounds, marking off numbers and aiming for winning patterns.
Enjoy playing the game of Bingo Blast!
Note: Every 90-ball game has its own rules. Make sure you will familiarise yourself with them for the game Bingo Blast. Following the terms and conditions is essential, especially if you want to avoid having issues while cashing out your winnings.
Features of Bingo Blast
Engage in multiplayer action, explore varied game modes, and connect with a lively community in this mobile-accessible bingo experience that will keep you entertained and exhilarated. Check the features of this Bingo Blast game, and do not regret it when you start playing:
Fast-Paced Gameplay
Dynamic Power-Ups
Multiplayer Mode
Vibrant Graphics and Themes
Varied Game Modes
In-Game Chat
Mobile Accessibility
Bingo Blast provides a dynamic and fast-paced experience, with its unique features and energetic gameplay, attracting both bingo enthusiasts and those seeking a fresh twist on the classic game.
Where Can I Play Bingo Blast?
Bingo Blast can be played on various online gaming platforms that offer this exciting game. Some popular platforms to enjoy Bingo Blast include Mecca Bingo, Heart Bingo, Betfred Bingo, and MrQ Bingo. These reputable and trusted platforms provide a secure and immersive gaming environment where you can experience the fast-paced and exhilarating gameplay of Bingo Blast. Visit their websites or download their mobile apps to embark on a thrilling bingo adventure with Bingo Blast.
Characteristics of Bingo Blast
Bingo Blast is characterised by its fast-paced gameplay, dynamic power-ups, and vibrant graphics. With rapid-fire number calls, strategic power-up usage, and visually engaging themes, Bingo Blast delivers an exciting bingo experience that keeps players on the edge of their seats.
| | |
| --- | --- |
| 📋 Bingo Game Name: | Bingo Blast |
| 🔥 Bingo Game Type: | 90-ball |
| ⚙️ Software Provider: | Pragmatic Play |
| ✅ Best Bingo Site to Play: | MrQ Bingo |
90-ball Bingo Adventure
The 90-ball bingo games are indeed very traditional. Everyone needs to know how to play them, and it is easy. According to our experts, Bingo Blast is the perfect game, where you can enjoy the 90-ball bingo experience and hit some massive winnings.
Graphics and Sound
The graphics create an immersive and visually engaging experience for players. Additionally, the game is accompanied by lively sound effects and a cheerful soundtrack that enhance the overall atmosphere, adding to the excitement and enjoyment of the gameplay. The combination of appealing graphics and delightful sound elements ensures that players are fully immersed in the immersive world of Bingo Blast.
Fairness and Security
Bingo Blast provides security using industry-standard random number generation (RNG) technology, ensuring that the numbers called during gameplay are genuinely random and unbiased. Many organisations, including GLI, prove the RNG of the game.
Summary
Bingo Blast takes the classic game of bingo to new heights with its fast-paced gameplay, dynamic power-ups, and visually captivating graphics. With its exciting multiplayer mode, varied game modes, and mobile accessibility, it delivers an immersive and thrilling bingo experience. The vibrant visuals, engaging gameplay, and the game's social aspect create an enjoyable and entertaining atmosphere. Bingo Blast is a must-try for enthusiasts looking for a fresh and exciting twist on the traditional game.