75 Ball Bingo is perhaps the most common form of the game, and it is played in bingo halls all over North America. The game has become quite popular in other countries as well, and many players can enjoy the excitement of this game at online casinos and bingo rooms. The game is easy to play, and one can win by completing a variety of patterns. This version of bingo is played on a card with a 5×5 grid, and the middle square is a free space. Balls numbered from 1 through 75 are called, and the player to first complete a pattern will be the winner.
One of the appealing aspects of playing 75 Ball Bingo online is the ability to interact with other players, making the game a social activity that can provide outstanding payouts. Many online bingo sites have large jackpots that can be won, and there are even side games that can offer additional chances to collect rewards. Watch for bingo sites that offer bonuses and receive free cash that can be used on the purchase of other cards!
How to Play 75 Ball Bingo
The game starts by purchasing cards, and players usually buy multiple cards so they have more chances of winning. The cards will have 24 numbers, and they are divided into five columns, represented by the letters B, I, N, G and O. The goal is to create a specified pattern before any other player.
Many different patterns will be seen when playing 75 Ball Bingo, so players need to know the pattern before the game starts, so they know what numbers to watch for to claim a prize. The following are some of the more common patterns that will be seen when playing this game: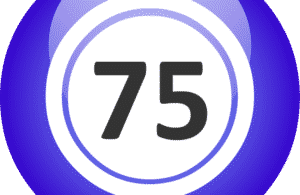 Single Line Bingo – complete any line horizontally, vertically or diagonally to win.
Two Line Bingo – complete any two lines
Full house – cover all spots on the card
Four Corner Bingo – cover the four corners of the card
Big X – Create an x with two diagonal lines
Outside Edge – include all numbers to form a complete border around the outer edge of the card
Players will encounter many other patterns when playing this game. Some of these include an inside edge, a checkerboard or a particular number or letter on the card.
Online Features
When playing bingo at an online site, some functions may be used to enhance the game and make it easier to play. Most sites will allow players to enable an auto-daub feature. The cards will automatically be marked when a corresponding number is called. This is very useful when players are playing multiple cards, and it ensures that no number is ever missed.
Some online casinos will also offer progressive jackpots, attracting some players. With these games, players must complete a coverall in a set number of balls to be the winner. There are also features like card swap, where players can swap out cards if they want cards with different numbers. Many sites will also allow players to customise their cards by selecting different colours or daubers.
Some sites also offer the 3TG option. When this is enabled, it alerts players when they have just three numbers remaining before they compete for bingo.
Game Payouts
The amount that can be won when playing 75 Ball Bingo will depend on where players are playing and what types of games they have selected. The number of players and cards will determine the most prize amounts. Generally, the more active players, the higher the payouts will be. There are also fixed prize games, which offer a guaranteed amount no matter who is playing. For those seeking big wins, it is best to play when the most active players are. However, this can reduce the chances of winning, so many players prefer playing in smaller rooms. Even though the payouts will be less, the opportunity to win significantly increases when fewer players are involved.