Bingo has been a popular game for many years, and with the offering of online games, players can now enjoy their favourite bingo games from the comforts of home. There are many versions of bingo that can be enjoyed for free and for real money, and one popular variation is 90 Ball Bingo. This game is often featured on sites that cater to the UK and Australian players, but it is enjoyed by players all over the world. The game is fast paced and offers great chances at winning.
With this version of the game, players will use cards that have 27 squares. These are set up in 3 rows, and 9 columns and each row will contain just 5 numbers, with 4 of the squares remaining empty. There is no free space used with this game, and there are just three winning combinations that can be completed to claim a win. Every row on the card will contain 15 numbers that are called at random, and they are between 1 and 90.
Ways to Win 90 Ball Bingo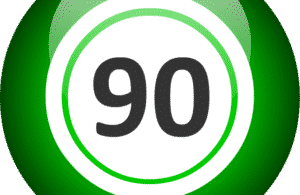 As mentioned, there are three different ways for players to win when they are playing the 90 ball version of bingo. These include:
One line
Two horizontal lines
Full house
The first prize of the game will be awarded to the player that completes one line on the card. The second payout will go to the one that gets two horizontal lines completed, and the final payout will be awarded to the player that completes all three rows on a single card. Each game played will award these three prizes, so players have three chances to win a single game. It is possible for two or more players to share the same prize if they complete the winning combination at the same time. In this case, the prize money will be split evenly amongst the declared winners.
The prize amounts for each game will vary based on how many players have purchased cards and how many cards are in play. With variable prize games, the amount will be related to the number of players and the number of cards. If players are playing a solid prize game, they will win a set amount no matter how many players are active.
There are also 90 Ball Bingo games that feature the chance to win a progressive jackpot. To collect his payout, players will have to complete a Full House using a set number of balls to be called.
Game Tips
Playing 90 Ball Bingo can provide hours of excitement, and some tips can be used to increase the chances of winning one of the three prizes. Though these tips will not guarantee any players will win, they do offer better opportunities for real money players.
Know the rules of the game. Each bingo site or casino may have different rules, so players need to be aware of these when playing for cash.
Avoid playing during peak hours. This will allow players to play lower priced games and compete with fewer players, increasing the chances of claiming a bingo.
Choose low-cost games. By playing for a smaller amount, players will be able to purchase more cards. Even though the payouts will not be as high, players will have additional cards that can increase the chances of winning.
Play multiple cards. This is a useful tip for any version of bingo. The more cards players have, the more chances they have to complete a bingo on one or more of those cards. Always purchase as many cards as possible while staying within a set budget.
Free Bingo
As with most games that are featured online, players can test 90 Ball Bingo games for free before committing to real money play. This is a great option for those that are new to the game and are looking to learn the rules and the payout structure. Free play games may not offer cash rewards, but they can be just as fun and exciting and can provide the chance to prepare for those high paying games in the future.